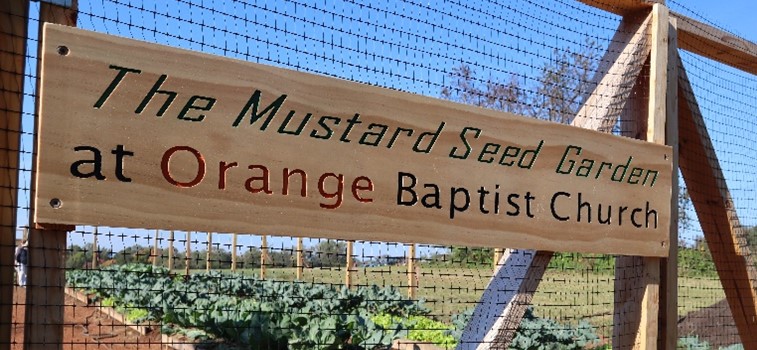 The vision for The Mustard Seed Garden at OBC has grown from the church's desire to serve the community and use the church property in a multitude of ways to the betterment of the community.
When it became clear that Orange Baptist Church shared the same vision as the Orange Healthy Community Action Team, also known as the Orange HCAT, a beautiful partnership was formed. The Orange HCAT seeks to break barriers to healthy childhoods. Providing fresh produce options to families is just one of the many ways the HCAT hopes to promote healthy lifestyles in the homes of Orange County children.
Funding from the Virginia Foundation for Healthy Youth for the Orange HCAT has led to leveraged funding from other sources such as the Bama Works Fund of the Dave Matthews Band and has helped support the water tap fee as well as the purchase of a tiller and produce scale and will continue to support garden needs going forward.
Countless donors and volunteers have made the effort possible and brough the vision to fruition, including (but not limited to): Baptist General Association of Virginia, Bama Works Fund of Dave Matthews Band, Virginia Foundation for Healthy Youth, Town of Orange Town Council, Orange Baptist Church Men's Group, Craig Jacobs & The Salvage Wright's Crew, Myron Newhouser, Dwight Satterfield, Pace Fence & Livestock Co., Bill and Brenda Morris, Charles and Vicki Horn, Chuck Roten of Bonnie Plant Farm, Zach & Jimmy Darnell of Darnell's Garden Patch, Barry Jacobs, Patrick Colby, Edward Sparks, Travers Thomas, Bill and Joan Hager, Ashley and Whit Jacobs and the Orange Baptist Church Youth.
The name The Mustard Seed Garden at OBC, was selected because the mustard seed inspires great things from small beginnings. Matthew 13:31-32 reads: He told them another parable: "The kingdom of heaven is like a mustard seed, which a man took and planted in his field. Though it is the smallest of all seeds, yet when it grows, it is the largest of garden plants and becomes a tree, so that the birds come and perch in its branches." All produce harvested will be donated to the Love Outreach Food Pantry and those in need.
The garden was dedicated on Sunday, October 24th with Orange Baptist Church staff, members, and numerous garden volunteers/donors present. In the first two weeks of the fall harvest more than 150 pounds of produce was donated to Love Outreach!
For more information or to volunteer, please contact Bill Hager or Ashley Jacobs.